We are a church that believes in Jesus and loves God and people
The purpose of The Wesleyan Church of Fairfield, Illinois is to reach our community with the message of God's love.
Children's church provided
Storage Room Update
The storage room has been updated with new drywall, flooring and paint. If you want to help sort through items and move back to storage, let Pastor know.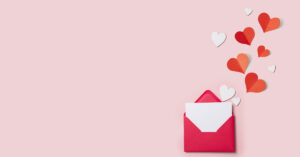 Valentine's Day
Monday, February 14, 2022
Send a Valentine's Day card to encourage someone and let them know they are loved!
"Encourage one another and build each other up" I Thessalonians 5:11.
Sunday Morning Service 10:30 a.m.
If you can't be there in person, join us via live stream on Facebook.
Latest Sermons
Spiritual Disciplines

(4 sermon series)
If your goal is to please God, then you need to be striving to be Christlike; and if you are striving to be Christlike, then you need spiritual disciplines.
I Timothy 4:7-8 "exercise thyself unto godliness. For bodily exercise profiteth little: but godliness is profitable unto all things, having promise of the life that now is, and of that which is to come."
series 1: Why Are They Important? –
January 2, 2022
To download sermon, go to the SERMON PAGE.
series 2: Inward Disciplines – January 9, 2022
Example: reading your Bible, prayer and alone time with God
series 3: Outward Disciplines – January 16, 2022
Example: simplicity, submission, giving and service
series 4: Corporate Disciplines – January 23, 2022
Example: worship, discipleship, fellowship and sharing

"Well Vers

ed"
"I believe that the Bible speaks not merely to personal, family, and church issues, but to national, community, and governmental issues if we would take the time to listen." –James L. Garlow
Conservative Christians admit that they do not speak out on political or cultural issues because they do not know how to support their beliefs from a biblical basis, according to a recent poll. Instead, they remain silent on critical issues like marriage, racism, and transgender issues because they feel uninformed and ill-equipped to defend their beliefs.
C O N T A C T F O R M
Send us a Message
Contact Info
Address: 960 US Hwy 45 Fairfield, IL 62837
(1 mile north of the airport)
Phone: 618.842.2418
Email: ffwesleyan@gmail.com